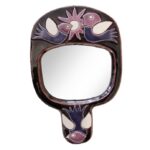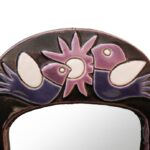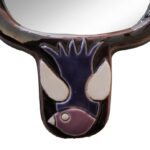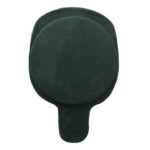 Mithé Espelt Ceramic Hand Mirror, circa 1960, France
Mithé Espelt ceramic hand mirror, circa 1960, France. Glazed embossed earthenware. Iconic mirror decorated with birds. Original felt backing. Circa 1960, France. Very good condition. The life of Mithé Espelt is a real saga. Born in 1923 in Lunel, in the Camargue in the south of France, she was immersed at a very young age by her grandfather, Edmond Baissat, in an unexpected biotope. Ardent defender of the Provençal language, alongside his friend Frédéric Mistral – Nobel Prize for Literature – Edmond is indeed an important figure in artistic and intellectual life. Associated with Jean Cocteau, Christian Bérard, Pablo Picasso and many others, without forgetting, of course, Jean Hugo (who would become his faithful friend) all proved to be fundamental in the structuring of his personality and his vision of the world.
At the Ecole des Beaux-Arts in Montpellier, where she was admitted under the age of sixteen, Mithé reunited with her friend from Sétoise, Valentine Schlegel. Three years later, the great ceramicist Emilie Decanis selected her to be part of the first class of the Fontcarrade ceramic experimental school, an innovative project intended to train the best French ceramists.
Then Mithé moved to Paris to work in the studio of Nathalie Pol, renowned boutonniere ceramist under the sign of "Atelier Lydia Chartier". In these times of war, small little buttons were in fashion because they made it possible to brighten up, with little means, the grayness of the days. Responsible for creating Line Vautrin's creations, sh stayed there for two years and kept a nostalgia for the dazzled memory of this collaboration with the great artist.
After spending forty years in her workshop, she bequeathed us more than a thousand models of jewelry, mirrors and boxes. Mithé Espelt passed away at the beginning of autumn 2020, only a few weeks after the publication of the monograph devoted to her, and the opening of two retrospective exhibitions of her work in Paris. Thus managing to avoid fame until the end.